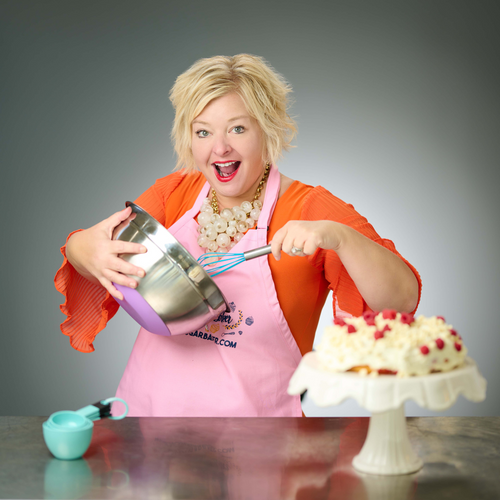 Jayne J. Jones
America's No Sugar Baker & Founder
,
No Sugar Baker Treats
Meet the No Sugar Baker
Jayne J. Jones Beehler (AKA--The No Sugar Baker)
Favorite Food: Fish
Favorite Once a Year Treat: Cheetos, Tator-tots, and I love my mom's peanut butter chocolate graham cracker or lemon bars.
Jayne, born and raised in Minnesota, grew up on chewy tator-tot-hotdish and sugary pans of bars. After law school, Jayne worked in state and federal government public policy roles. Jayne has founded a government grant firm, a nonprofit chaperone travel service for individuals with intellectual disabilities and learning differences and authored six national and world award-winning books. Jayne loves braised current events, is bubbly strong willed, and her least favorite charred word is "no." Jayne is a proud non-coffee drinking Lutheran, who drenches the church with her voice singing all hymns.
A self-taught decadent cook, baker and party thrower, Jayne's main love is entertaining and knocking everyone's aprons off with her creativity, devotion to dollar saving tips and delightful savory tastes. Though far from "a-typical," a typical weekend would find Jayne roaming enticing garage sales, trying a new gratifying recipe on her glorified taste testing team, and rooting for her friends in the National Hockey League.
Jayne got deathly ill and sick in the fall of 2019. Her love of the kitchen, party throwing and zest for life got crumbled up in one bite. But, not out of sight. She had a sour after-taste but that bitterness won't last long or become over baked. The timer was up for perishable days.
After six months of blood, sweat and tears, Jayne rolled up her sleeves, put back on an apron and went to work as the No Sugar Baker. She has over 150,000 followers and does 2-3 tv regional interviews a week.
Jayne is married to Chris Beehler, (AKA The Hubs), and has a college-aged daughter Emily (AKA Em).