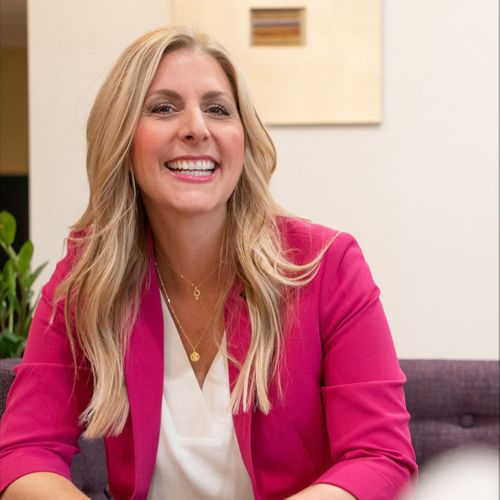 Katie Sandoe
Dr. Katie Sandoe is an entrepreneur, educator, and taco lover. She believes we're all created for a purpose and that hers is to awaken the power of purpose in others and to help women live into their limitless potential.
For over 20 years, Katie has pushed the limits and challenged expectations in the communications, public relations, and adult education disciplines. She inspires others through her writing, speaking, and workshops on topics like purpose-driven leadership and empowering women.
Katie founded Light Echo Co. to help leaders connect purpose to work and achieve greater success while also changing the world. Additionally, she dons a pink cape as Executive Director for Girls on the Run Lancaster and periodically a graduation tam as professor at Penn State Harrisburg.
Katie loves her community and currently serves on the Board of Trustees for the Lancaster Chamber, the Board of Directors for the YWCA Lancaster, and the Advisory Board for Penn State Harrisburg's School of Humanities.
Katie's visionary work has been recognized in several spaces. She received Penn State Harrisburg's 2020 People to Watch Award and Central Pennsylvania Business Journal's 2019 Women of Influence Award for her impact to society, community, and profession. Katie also received the 2017 Learned Society of Whispering Pines Graduate Student Award and the 2015 Kathryn Towns Award for her groundbreaking research on pop culture and women's identity.
Katie holds a Bachelor of Science (B.S.) in Speech Communications from Millersville University, a Master of Arts (M.A.) in Communications and a Doctor of Education (D.Ed.) in Adult Education both from The Pennsylvania State University. Katie graduated from Leadership Lancaster's Core Class in 2014 and trained by Tara Mohr in The Coaching Way.
Okay... that's enough formal "stuff".
Katie lives life to its fullest and enjoys running while listening to audio books and podcasts, hiking in adventurous places, chasing after the best tacos in town, and watching football with her best friend (hubby) and their adorable woofer, Zander.