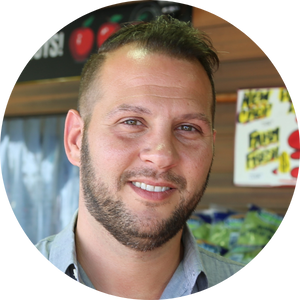 Phil Penta
Managing Director
,
3 Guys From Brooklyn
Philip Penta is the managing partner at one of Brooklyn's largest and longest operating fruit and vegetable retailers, 3 Guys from Brooklyn. Established in 1998 by his father and two partners (the original 3 Guys), the market has become a staple in and beyond the South Brooklyn community that it loves and serves. Philip joined the team as general manager in 2001, becoming a partner in 2011. Over his tenure, he has developed and implemented numerous programs focused on growth, innovation, sustainability, and community by creating partnerships with local farms, environmentally responsible companies, and charitable organizations.

Along with produce and store operations, Philip spearheaded the rebranding of the company's logo, identity, and website relaunch. Philip also directs the marketing and social media strategy for 3 Guys from Brooklyn. These initiatives and his ability to adapt in a changing marketplace have led to increased visibility, driven new customers to the store, and strengthened relationships with existing ones.