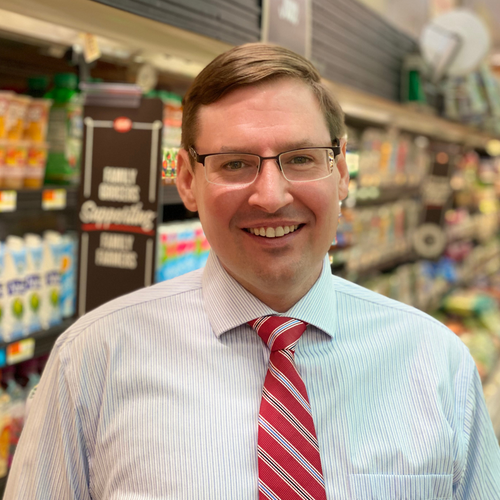 Bob Rybrick
President & CEO
,
Geissler's Supermarkets, Inc.
Robert "Bob" Rybick, 4th generation President & CEO of Geissler's Supermarkets, grew up in the family business where his passion for fresh, quality foods began as early as his teens when he started in the produce department. It was also at this time when he became determined to one day lead his generation into the future. After completing his studies, Bob returned to the family business working in the grocery department and becoming the buyer for newly emerging specialty categories, such as gluten free. He then transitioned to the HQ office as a buyer for center grocery and DSD, leading marketing initiatives. Bob then moved into a General Manager role prior to being voted in as the President of Geissler's 4th generation.
Geissler's is a 97-year-old, IGA affiliated supermarket chain operating 7 stores throughout Connecticut and Massachusetts. In his current role as President & CEO, Bob is excited to be leading a Local = Fresh transformation by utilizing various technology platforms such as e-commerce, digital ads, and social media as well as in store initiatives. The strategy is focused around supporting local producers and farmers in order to offer the freshest products for his shoppers and separate his business from big box stores. He often likes to say, "there is a difference between being in a community and being part of a community".
Bob studied Accounting at The George Washington University, and received his MBA from the University of Iowa Tippie School of Business. He is the current recipient of the Progressive Grocer NexGen Award and the 2020 IGA USA Hometown Proud Retailer of the Year. Bob chairs the IGA National Retail Advisory Board as well as the Connecticut Food Association Legislative Committee, and is a member of the National Grocers Association Legislative Committee.
Bob is an avid coffee enthusiast and Certified Coffee Quality Grader. If you want to know anything about coffee, just ask him! He and his wife, Nikole, reside in East Windsor, CT where they are proud foodies and wine aficionados. If you'd like to know more about Bob and Geissler's, check them out on social media!